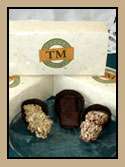 Gourmet Candy Online
ToffeeMasters™ specializes in producing premium gourmet chocolate toffee. All of our toffee is made from scratch using only the finest chocolate and nuts available on the market today. In addition to our original mouth watering milk chocolate walnut toffee, try our new milk chocolate pecan and dark chocolate espresso flavors. Our 8 oz box is ideal for customers who are trying our toffee for the first time or looking for a delicious gift. Holiday tins make a nice gift for colleagues, friends and family and our 24 oz is ideal for party platters or hostess gifts. Visit our FAQ page for a list of stores offering our hand-made ToffeeMasters toffee or, you can
order online today. We hope you enjoy our candy.
Sign up now to recieve our quarterly News Letter.

Corporate Gift Ideas, click here.
Created by: DynamicSiteDesign.com